What a pleasurable experience!! I could not be more pleased with my experience as a whole. Doing business with Ratatat Cattery was refreshing. Charlene was wonderful from the very beginning. I came to her with so many questions and she held my hand through the entire process. She was not only kind, but extremely knowledgeable. I have a healthy kitten as well as Charlene that continues to show that she is just a text message away. Thanks again!
As a rule, I never comment or provide reviews. BUT, in this instance, I am compelled to do so!

THESE ARE THE BEST CATS! THIS IS THE BEST BREEDER!!!

My sweet little Luna has been such a joy to our entire family! Now I can't wait to soon bring home my BEAUTIFUL blue tuxedo prince! He will be my second baby from Charlene.

Trust me, if your considering it or debating it, DO NOT! Hurry up and get on the wait list! THESE CATS ARE MORE THAN WORTH THE WAIT!

Thank you a million times over Charlene!
Charlene is an amazing breeder and human being! Without going into too much detail about our situation, let me just say that you can not find a more reputable, honest, knowledgeable and caring breeder! Her cats are beautiful, playful, healthy, and already crave human affection and interaction.
Rat-a-tat is hands down a 5 star Sphynx breeder. Just brought our baby Cooper home today! He is perfect in every way! Well worth the wait! He's loving, playful and mischievous?. Charlene would send pictures and videos so we could watch him grow! Even went to visit him a few times! Charlene is for real and TOP NOTCH!!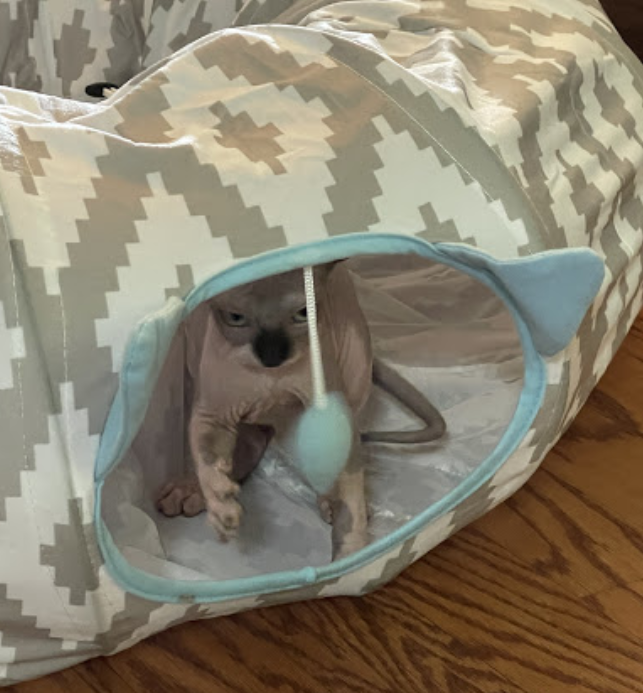 Amazing breeders, knowledgeable, kind,trustworthy and great communication. I would recommend them to anyone looking for a healthy well socialized addition to their home. Look no further Ratatat is the best cattery ever.
I don't want to sound cliche but this has been by far the best experience adopting my first baby. She is absolutely perfect and brings so much joy. She is very spoiled and loved by everyone that visits my home. It was a great meeting Charlene and she constantly gives me information about my kitten whenever I need it. She's great! Charlene also checks up on my baby and via text and I'm happy to share the milestones with her. Charlene is very caring and I'm grateful to have come across her cattery. Thank you Charlene for my beautiful Leeloo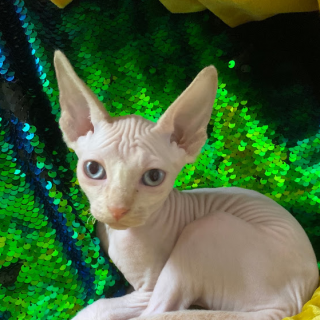 Definitely the best experience I have ever had adopting my babies. I adopted 2 angels (1 boy and 1 girl) along with my sister who adopted 1 boy. Char loves and knows each kitten Individually by their personality and charm. She has been spot on every time with explaining how each kitten will behave and act. She stays in contact with you throughout the process with pictures and gave us plenty of time to pick out our perfect pets. They are kept super clean and are cuddle bugs meaning they are definitely kissed and loved on before you take them home. I wouldn't go anywhere else for a sphinx.
We got our baby a couple of days ago and we are so grateful. They really cares for these kittens... he's smart, affectionate, playful, potty trained, overall a happy kitten - and that makes us happy. They took the time to explain everything in detail, sent updated pics every once in a while and answered all of our questions.
I seriously recommend Ratatat Cattery and I'm definitely getting another kitten from them in the near future.
I called everywhere for a Sphynx cat and the waiting lists were crazy here in GA so I was willing to take the drive to Florida. The amount of goodies she gives you really don't need much but food! She will give you everything else to get started so that was a HUGE plus. I did like that no matter how stupid the questions were she would answer them she would also send pics of our kitten. The money was broken up so its not all collected at one time which is nice. My daughter and I are very happy with our new kitten Neptune! Thank you for everything Ratatat Cattery you made our 2020 special ❤ .
We had the greatest experience getting our precious, healthy kitty from Ratatat Cattery. I've recommended them to friends, and can't say enough good things about them.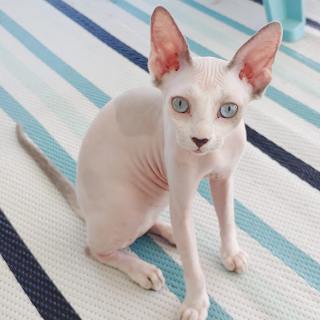 I have purchased 3 sphynx babies from Ratatat. They are by far the best breeder with honesty around. My babies were purchased at different times and are of impeccable quality. I even paid visits prior to taking them home. Easy and communicates with every baby I chose.
Ratatat is the best! We started with one, then ended up adding a total of 4 naked cats (Sphynx) to our family. We could not be any happier! Char was very helpful throughout the process and answered all my questions. These cats have the BEST personalities because she raises them in her home as her own, until they go to their forever homes. Highly recommend!!!
We have gotten four babies from Ratatat, and she given me my forever best friends. All of my babies have adorable little personalities and they are absolutely perfect. I 10/10 recommend buying from Ratatat Cattery!
I purchased from this cattery 7 months ago. Not only did I receive a beautiful, healthy Sphynx with an awesome temperament- but have enjoyed a relationship with this breeder who makes herself available for questions or concerns or just to share photos of your new love! Its evident that this breeder has a genuine interest in the well-being of the animals she gives the utmost time and attention to care for. I would never again select a different breeder. Char is truly a special lady. You will not find better!
Got my kitten from her a month ago and she's amazing! I highly recommend using her if you are looking for a precious kitten.
I got my beautiful bambino Mamacita from Char. She has been the best girl. Not to mention my rental car had problems when I flew to pick her up and Char and her husband were so kind to let me stay inside their house and love on their babies while I waited for the car to be exchanged! Having been to other catteries I can say hers is spotless, doesn't have the cat urine smell and your baby has the best of everything before they make it to your home! It's obvious she loves and cares for them by the tireless work and attention she puts in! Thank you Char & Ratatat Cattery! I can't wait to get my next baby!
Family orentated, professional business who go above and beyond to bring your new fur-less kittens into your home ❤
Can say enough how friendly and knowledgeable Shannon is about this breed of cat and how helpful shes been. Highly recommended
I have gotten kittens off of them and I have had no problems the kittens are very loving potty trained eating and very playful. The breeders are very knowledgeable in what they are doing right now I am waiting on kitten number 3
Always the best experience. Very knowledgeable and friendly, will always keep in touch for various needs, extremely well kept, and the most precious kitties you'll ever see!
Outstanding experience... gorgeous, well cared for cats... cattery well maintained, clean!
If you are looking for a sphinx kitten you won't have to look any further the care that I've personally seen is top notch
Wonderful breeder!!! I love my little Bambino, she was so healthy and well cared for before she came home with me.
Excellent cats and awesome service